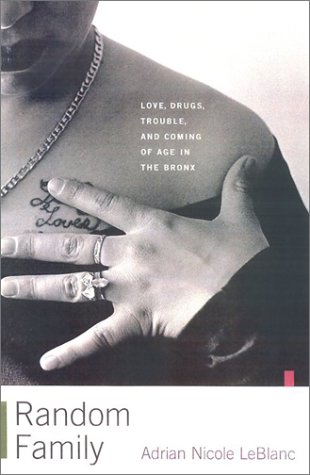 I am a master procrastinator.
I have been saying I am going to write for the longest time. I've walked around with the same line, and the same idea for a story in my head for at least a month. Even though I've had the itch the write, the need (or perhaps just the want) to write, I haven't been writing.
Over the long weekend I planned on cracking open my laptop, starting a new, bright, blinding word document, and…writing. This weekend I read. I devoured the book
Random Family
by Adrian Nicole LeBlanc and marveled at just how much my life was both so similar and yet completely opposite of the lives of those in her book.
Her book is amazing. Although it is a work of non-fiction her words possess the beauty and realness of a novel. I found myself rooting, and hoping against hope that the people in the story came out ok. And then I got jealous.
Whenever I read a good book, I am envious of the author's ability to connect word to meaning, and meaning to emotion. To weave stories and words and ideas into something so complete and so real, people are compelled to tell others.
I dream of being that dope one day.
I dream of writing words that touch people in a
real
and profound way. I dream of being more than the 13th man in the literary crowd, cheering others on, but really wanting to get in the game.
Tonight. I cracked open my laptop and wrote down that line I've been carrying in my head for the past month. I also began writing the story. It's not astounding. I am not a fiction writer, but I am a person with stories--many, many stories just waiting to march from my head and onto the page.
At the end of it all (or maybe the beginning?), I hope to be able to share them with you, and welcome you into another section of my mind, my life. When it is all said and done, I hope you will enjoy what it is I have to offer. And if not…hey, at least I tried.